According to the latest figures published by Johns Hopkins University, 7,403,713 cases have been detected worldwide, with 417,174 deaths and 3,484,672 people now recovered.
Nigeria: 13,873 cases / 382 deaths
South Africa: 55,421 cases / 1,210 deaths
Ghana: 10,358 cases / 48 deaths
Nigerian Senate passes revised budget
Nigeria's Senate, the upper chamber of parliament, passed a revised 10.8 trillion naira ($29.92 billion) budget on Thursday.
The coronavirus pandemic and a sharp fall in global oil prompted the government to alter its budget.
The revised budget, now bigger than the 10.59 trillion naira level previously approved, must be sent back to the president to pass into law after he has agreed to any changes. (Reuters)
Guinea president dismisses claims over ill health
The 82-year-old president of Guinea, Alpha Condé, has rebuffed claims that he is "gravely ill" and has been receiving treatment in hospital, reportedly telling a radio interview he has been hosting fewer visitors and hasn't been making as many public appearances because of the coronavirus pandemic.
"I assure the Guinean people that I am as fit as a fiddle and I am sure I will bury many people who wish me dead," AFP reported Condé as saying.
Guinean President Alpha Conde issued an audio statement on 10 June rebuking claims that he is gravely ill. The Guinean population remain unconvinced, calling for the president to make a televised appearance to confirm his health status https://guineematin.com/2020/06/10/alpha-conde-est-il-malade-je-me-porte-comme-un-charme/ …
See Ryan Cummings's other Tweets
Latest WHO figures: more than 207,000 cases and over 5,600 deaths in Africa
 

Over 207,000 confirmed #COVID19 cases on the African continent – with more than 94,000 recoveries & 5,600 deaths. View country figures & more with the WHO African Region COVID-19 Dashboard: https://arcg.is/XvuSX 
WHO says African can expect "steady increase" in coronavirus cases
Africa will have a "steady increase" in Covid-19 cases until a vaccine is developed and strong public health measures are needed in current "hotspots" in South Africa, Algeria and Cameroon, the World Health Organization (WHO) said on Thursday.
"Until such time as we have access to an effective vaccine, I'm afraid we'll probably have to live with a steady increase in the region, with some hotspots having to be managed in a number of countries, as is happening now in South Africa, Algeria, Cameroon for example, which require very strong public health measures, social distancing measures to take place," Matshidiso Moeti, WHO's Africa regional director, told a Geneva briefing. (Reuters)
Covid-19 hits Africa's safari industry hard
Reuters reports that nearly 93% of safari tour operators in Africa's main wildlife destinations have suffered a drop in business of at least 75% as a result of the coronavirus crisis, torpedoing an industry that is worth around $12.4 billion a year.
Jobs gone, investments wasted: Africa's deserted safaris leave mounting toll https://af.reuters.com/article/topNews/idAFKBN23I0W6-OZATP …

Jobs gone, investments wasted: Africa's deserted safaris leave mounting toll

When Khimbini Hlongwane spent most of his small safari tour company's savings on the deposit for a new minibus in February, it seemed like a safe bet.

af.reuters.com
22 people are talking about this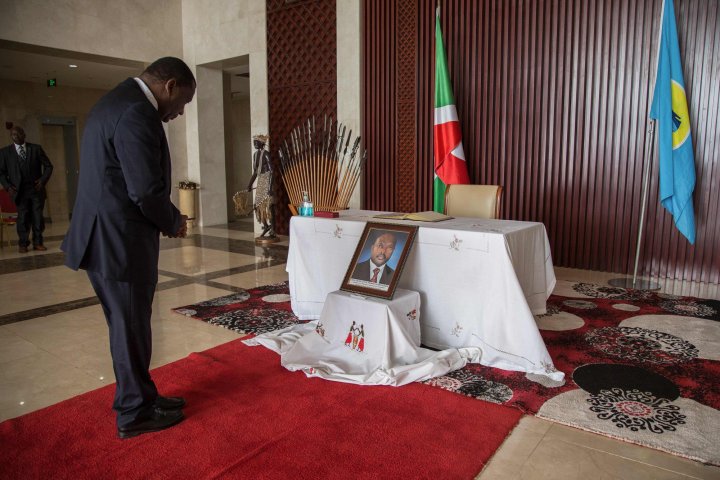 Burundi constitutional court "studying the power vacancy"
A spokesperson for Burundi's government has told the BBC that the country's constitutional court is still considering the question of who should succeed Pierre Nkurunziza, who died of an illness suspected to be Covid-19 on Monday.  
The court is "studying the power vacancy" and "will take a few days", Prosper Ntahorwamiye said.
In the photo, a Burundian official bows before signing the book of condolences at the state house as the nation mourns the death of Nkurunziza, 55.
(Photo by Tchandrou NITANGA / AFP)
Coronavirus: the complete guide to the Covid-19 pandemic
All the information you need to understand the coronavirus and ways to stay safe during the Covid-19 pandemic: