Theresa May is to hold last-minute Brexit talks with the leaders of Germany and France later, four days before the UK is due to leave the EU.
Mrs May is meeting Angela Merkel in Berlin, followed by Emmanuel Macron in Paris, to urge them to back her request to delay Brexit again until 30 June.
The prime minister will be at an emergency summit on Wednesday when all EU states will vote on an extension.
Cross-party talks aimed at breaking the impasse are also set to continue.
The negotiating teams will be joined by Chancellor Philip Hammond and shadow chancellor John McDonnell, with the Labour frontbencher saying they hoped to "broaden the talks".
The UK is currently due to leave the EU at 23:00 BST on Friday.
So far, MPs have rejected the withdrawal agreement Theresa May reached with other European leaders last year.
On Monday evening, Parliament passed a bill brought by Labour MP Yvette Cooper, which aims to force the prime minister to request a Brexit extension – rather than leave the EU without a deal on Friday, which is the default position.
The government opposed the bill, saying it was unnecessary as Mrs May was already seeking an extension. But the backbenchers behind it wanted to ensure it became law to prevent any changes in her strategy.
The bill received its Royal Assent on Monday night, and Commons Leader Andrea Leadsom told MPs that this meant there will be a government motion on Tuesday asking the House to approve the PM's request to the EU to delay Brexit until 30 June.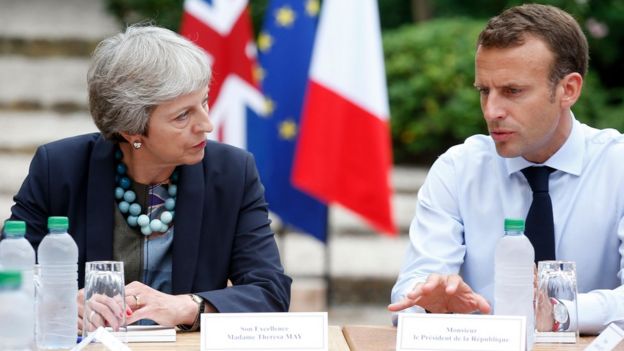 The final decision on an extension lies with the EU – and the leaders of all the 27 other EU countries have to decide whether to grant or reject an extension.
Germany's Europe Minister Michael Roth said Mrs May would receive a warm welcome in Berlin, but his government's priority was maintaining the unity of the European Union.
On Monday, Mrs May spoke by phone to the Dutch Prime Minister Mark Rutte, who said it was "crucial" for the EU's members to know "when and on what basis" the UK will ratify the withdrawal deal.
Luxembourg's Foreign Minister Jean Asselborn said the UK would "certainly not" leave without a deal on Friday.
But Ireland's Deputy Prime Minister Simon Coveney said a no-deal Brexit was still possible – even though it would represent "an extraordinary failure of politics".


EU leaders are curious to hear the prime minister's Plan B. They hope there is one, although they're not convinced.
They want to know, if they say yes to another Brexit extension, what it will be used for.
And they suspect Theresa May wants them to do her dirty work for her.
EU diplomatic sources I have spoken to suggest the prime minister may have officially asked the EU for a short new extension (until 30 June) as that was politically easier for her back home, whereas she believed and hoped (the theory goes) that EU leaders will insist instead on a flexible long extension that she actually needs.
The bottom line is: EU leaders are extremely unlikely to refuse to further extend the Brexit process.

No 10 said ministers and their shadow counterparts will continue cross-party talks later, as they try to break the Brexit deadlock.
A Downing Street spokesman said the government was "committed to finding a way through" which requires both sides "to work at a pace".
Talks between Labour and the government began last week, with Mrs May saying only a cross-party pact would see MPs agree a deal in Parliament.
Justice Secretary David Gauke told BBC Breakfast the meetings had been "constructive and positive", adding that both sides were "working in a positive manner" to find a way forward.
On Monday, sources indicated the PM had not accepted Labour's customs union demand, but there was a move towards changing the non-binding political declaration.
And the government reportedly suggested offering Labour a guarantee that any deal they reached could not be undone, creating a "lock".
This aims to ease Labour concerns that any promises could be unpicked by the next Conservative leader.